Video Production & Creation Services
Whether you need a demo video to showcase how your product works, a brand video to highlight your services and build awareness, or anything in between, we've got you covered! Our video production and marketing team has the creative eye to bring your story to life and increase engagement with your audience. See what we're about below.
Video Marketing & Social Media
Creating video for your business is essential for engaging with your audience and building brand trust. Social media outlets are the central hubs for consuming content, so it's important that you take advantage of this online market. According to Insivia, "Mobile video consumption rises by 100% every year." Video production is a growing trend and you owe it to yourself and your business to start implementing it into your marketing strategy.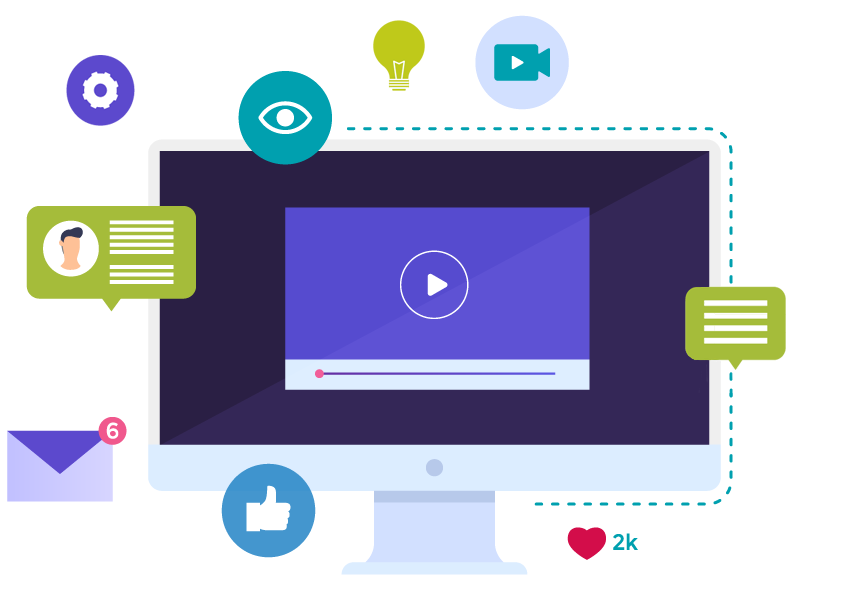 Types of Marketing Videos
In today's world, digital video content is becoming more and more popular. Small businesses need to implement this into their marketing efforts so they can keep their brands in front of prospective customers. Brand videos will help your business win the attention, trust, and dollars 😉 of potential buyers.
Businesses use promo videos to build awareness about their products, services, events, etc, without sounding like a blatant sales pitch. A good promo video brings awareness to consumers about your brand — without directly asking them to buy something.
Capturing interviews with your company's leadership team, seasoned employees, or current clients is a great way to build trust with your audience. A video testimonial can give a potential buyer the assurance they need to do business with your company.
A demo video is a highlight reel of how your product or service works. These are a popular and compelling way to show value in your business to potential customers. Great demo videos show your product or service in action so your audience can better understand what you're offering.
Drone video makes for some of the most exciting and sought after footage. Using drone videography in your marketing strategy will take your business to new heights. Whether you're a construction company that wants your building process filmed, or a manufacturing company who wants to show off your warehouse, drone video is the answer!
ADDITIONAL MARKETING SERVICES
Check out our
other marketing services

that help supplement a well-rounded campaign.
Web Development
We build data-driven websites that help market your brand and attract your target customer.
Social Media
Connect with your audience so they know how you can help them, and how they can contact you.
Google PPC
Put your business in front of your customers with paid advertising on Google & its partner sites.
Content Creation
Content marketing is key to boosting search engine rankings and delivering useful information.
Branding & Identity
Logos, brochures, business cards, etc — stay consistent with your message and branding.
Looking For More?
Interested in a service not listed? Contact us to see how we can help with your marketing goals.