wphungerford
Are you wanting to improve how your business ranks in local search results? Did you know that when it comes to Search Engine Optimization (SEO), Google's local algorithm approaches local search results differently than the organic ones? At Hungerford Media, our local SEO experts can help you create an effective digital marketing strategy that will help grow your business!
Keep reading to learn more about the local algorithms that Google uses to determine search rankings. Get in touch with our marketing team today to find out about local SEO and how it can impact your business.
What is Google's Local Algorithm?
Before we can really dive into what makes the two categories of search results different, it is important to know which of those results are considered local and which are organic.
The difference may seem small, but it could mean the difference between a potential customer contacting one of your competitors instead of you. For many business owners, that is not a risk that they can afford to take. The reality of it is the further your business appears down on the page, the less likely someone will be to contact your business and that likelihood continues to decrease significantly as you click through the 2nd and 3rd page of search results.
The 3-Pack of a local SERP
When referring to Google's algorithm, you will often hear the phrase "three-pack" which refers to the three businesses that appear in the boxed search results at or near the top of the first page. This 3-Pack provides just enough information to function as the first page in a SERP (Search Engine Results Pages) for someone doing a local search from a smartphone.
As a result, a lot of local businesses are asking "How do I get my business in that three-pack?". Even though the answer is that you cannot optimize specifically for a 3-pack, there are a lot of steps you can take to improve the likelihood that your business does appear there, like creating and ensuring the accuracy of your Google My Business page or your Google Maps listing.
Local algorithm factors that help determine these search results:
Proximity
Prominence
Relevance
Proximity
Simply put, proximity is defined as where Google thinks you are located when you are searching from your phone or computer at the time you complete a Google search. One quick way to see where Google thinks you are located is to scroll to the bottom of a search page and it will often list a zip code that Google thinks you are in. When you are on your phone, Google usually tends to have more in depth knowledge of your location without you taking any additional steps. This is because of the geo coordinates that are used to determine your actual location for reasons such as providing driving directions. This is why another simple way would be to open Google Maps and see where the blue dot appears, which represents where Google believes your current location is.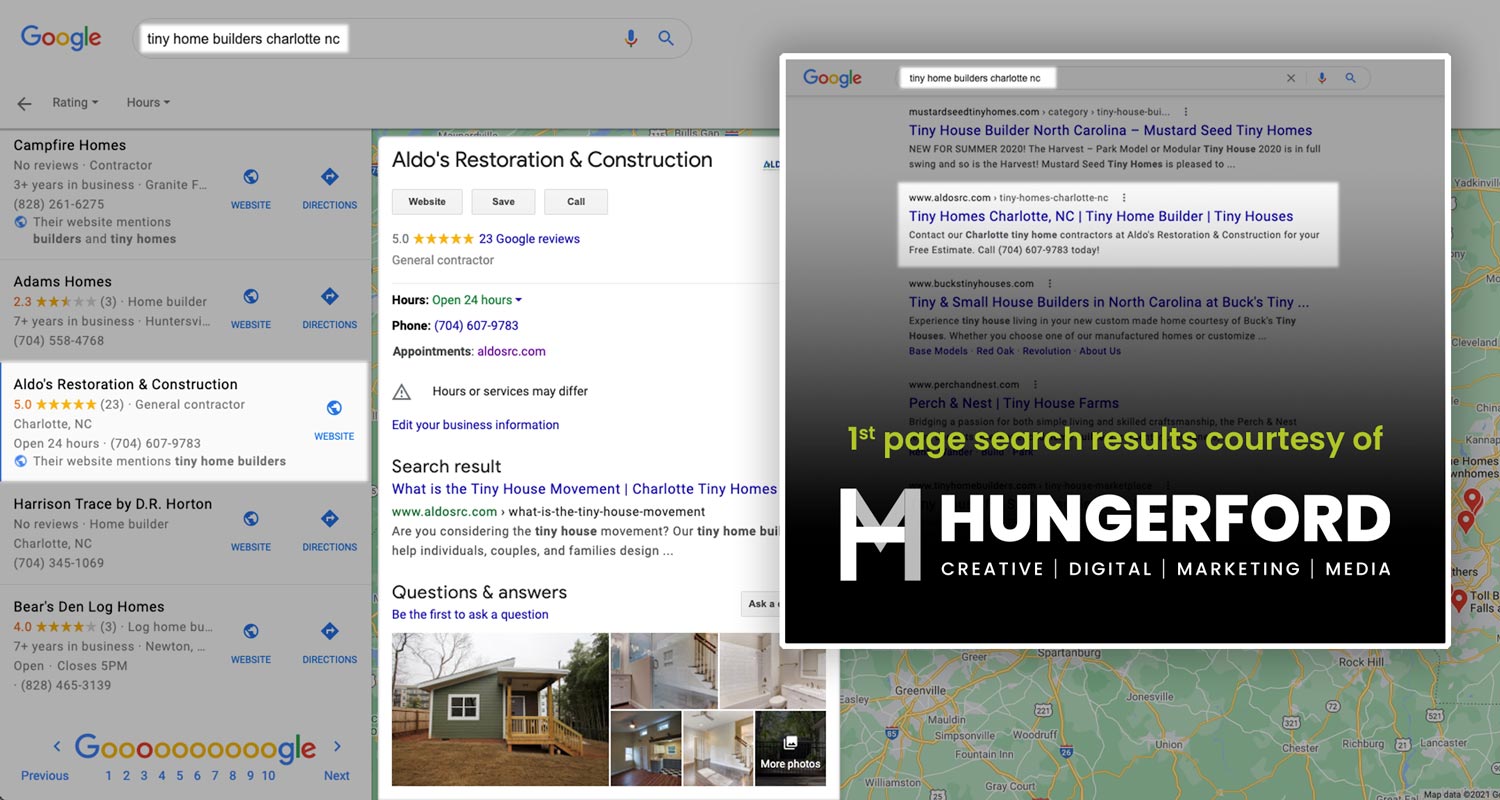 The more competitive an industry may be in a given area, the more important factors like these geo coordinates are when it comes to search results. The reason being that is because businesses, such as restaurants and dentists, that are more densely packed together may require additional information for Google to determine which three businesses are most relevant to a particular search query.
If you are curious about how your business ranks in certain zip codes, there are several online resources that can help you do that. Tools like Moz Check Your Presence Tool, BrightLocal, Whitespark, or Places Scout all are capable of more detailed tracking within a city.
Prominence
Prominence refers to how important Google believes your business is. If Google thinks your business is too new and they don't know much about it; or if they conclude that the business is nothing more than a poorly run business, then this could greatly impact where the business appears in the local search rankings.
One major factor in determining prominence is Google reviews. These reviews provide Google with information on previous customer's experiences working with the business. This outside feedback can generally help businesses create a lot of prominence. This especially holds true if the business has a combination of old reviews as well as new reviews since that tells Google that the business has positively established themselves over the course of many years.
Relevance
The final factor is whether Google concludes that your business is related to the search query or it is more relevant to that search query than some other surrounding businesses. Your company may be very prominent as well as one of closest businesses in proximity, but if Google determines that your business is not relevant to the search query, they could still rank you lower in the search results.
One way to make sure your business excels with the relevance factor is by continually adding valuable content to the company's webpage that is structured well and is related to popular search queries. Other factors that could impact a business' relevance would be onsite SEO (title tags, meta tags, alt tags, etc.) and citations (does your business address appear consistent throughout the web).
SEO & SEM From Hungerford Media
If you want to increase the local online exposure for your business, call our Grand Rapids digital marketing agency today at (616) 259-0078. Contact us here for more info about SEO, SEM, Google PPC, or any of our digital marketing services. Google's local algorithm can be very complex, but we can help!